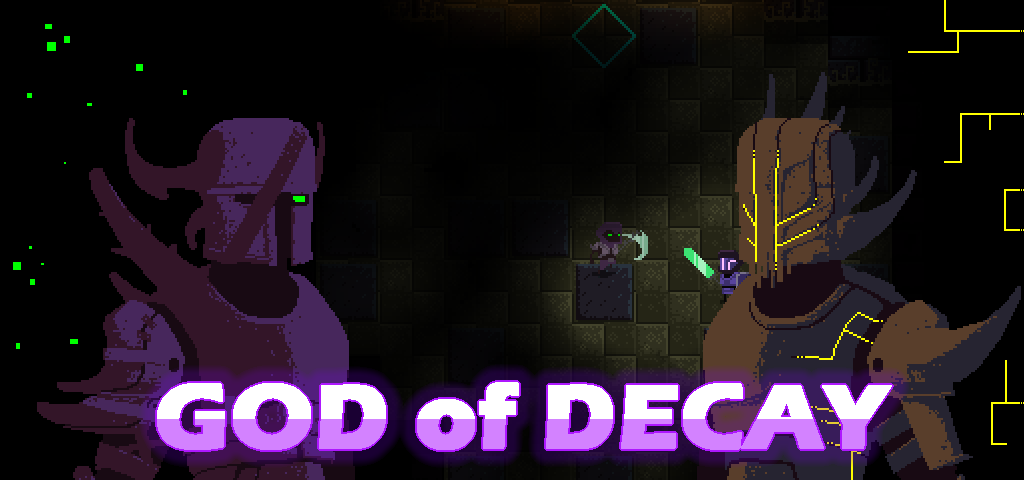 God of Decay
"Can you hear it? The Void calls upon us. Many tongues speaking many words, but only one voice. Past the furthest reaches of torment and pain it stands, waiting, calling on us to step forth. Will you answer the call?"

God of Decay is the sequel to the game Quest of Decay, though it branches away from many of Quest of Decay's defining features. God of Decay is a dungeon crawler that features randomly generated levels and a variety of monsters inhabiting them to slay. Sounds pretty generic, right? Perhaps, however unlike most traditional dungeon crawlers, God of Decay does not demand level grinding in order to enjoy the game. And unlike most randomly generated games released in the market, God of Decay is not a rogue-like nor does it consider itself as such. That means no permadeath and punishing difficulty that will give you a strong desire to uninstall the game. While GoD is not an exceptionally difficult game, it does however reward quick thinking and crush those who refuse to adapt. The combat is swift and requires your attention, though through practice you can overcome even the most powerful monster the game has to offer with the weakest gear you can find. The main focus of the game is to see how far you can get before dying and being sent back to the first depth, though as to not contradict my earlier statement, I would like to point out that this does not entail permadeath as you keep all equipment collected on your journey even in death. Another key aspect of the game is collecting gear for your character. Gear can be found in chests or purchased at shops and aside from cosmetics each piece of equipment will help you achieve your goal of surviving to reach the deepest depth of the underworld.
TLDR; The game is awesome and you need it.
Note that the game is no longer free. This is because I no longer have the time to work on other projects and this one, but I think this game has a lot of potential and it is already released, so I have chosen to continue updating it instead of rushing to other things.
Version 1.7:
Major graphical overhaul. That means environments, monsters and UI elements
Made the view follow the player
Added a rarety identification system in the inventory, somewhat similar to the color coding in Quest of Decay. Aqua is common, green is uncommon, yellow is rare, red is legendary and purple is special
Removed the combo chain popup because it felt too out of place. Enemies still take more damage from successive hits, however.
Various UI improvements
Miscellaneous bug fixes
Feel free
to tweet at me over at @Critical_Dante if you have any questions, suggestions
, bugs to report
or if you want to send me spam.
NOTE: This game is currently undergoing a massive overhaul which manipulates the graphics (yes, again), the mechanics and the overall feel of the game. If it strays far enough from the original design of GoD, I will list it as an entirely new title, however I will ask the community first before nuking this one and reuploading, so then I can't take ALL the blame :P
Also, this is now "In Development" as I have a much larger vision for it than I initially had.
Purchase
In order to download this game you must purchase it at or above the minimum price of $2 USD. You will get access to the following files:
Download demo